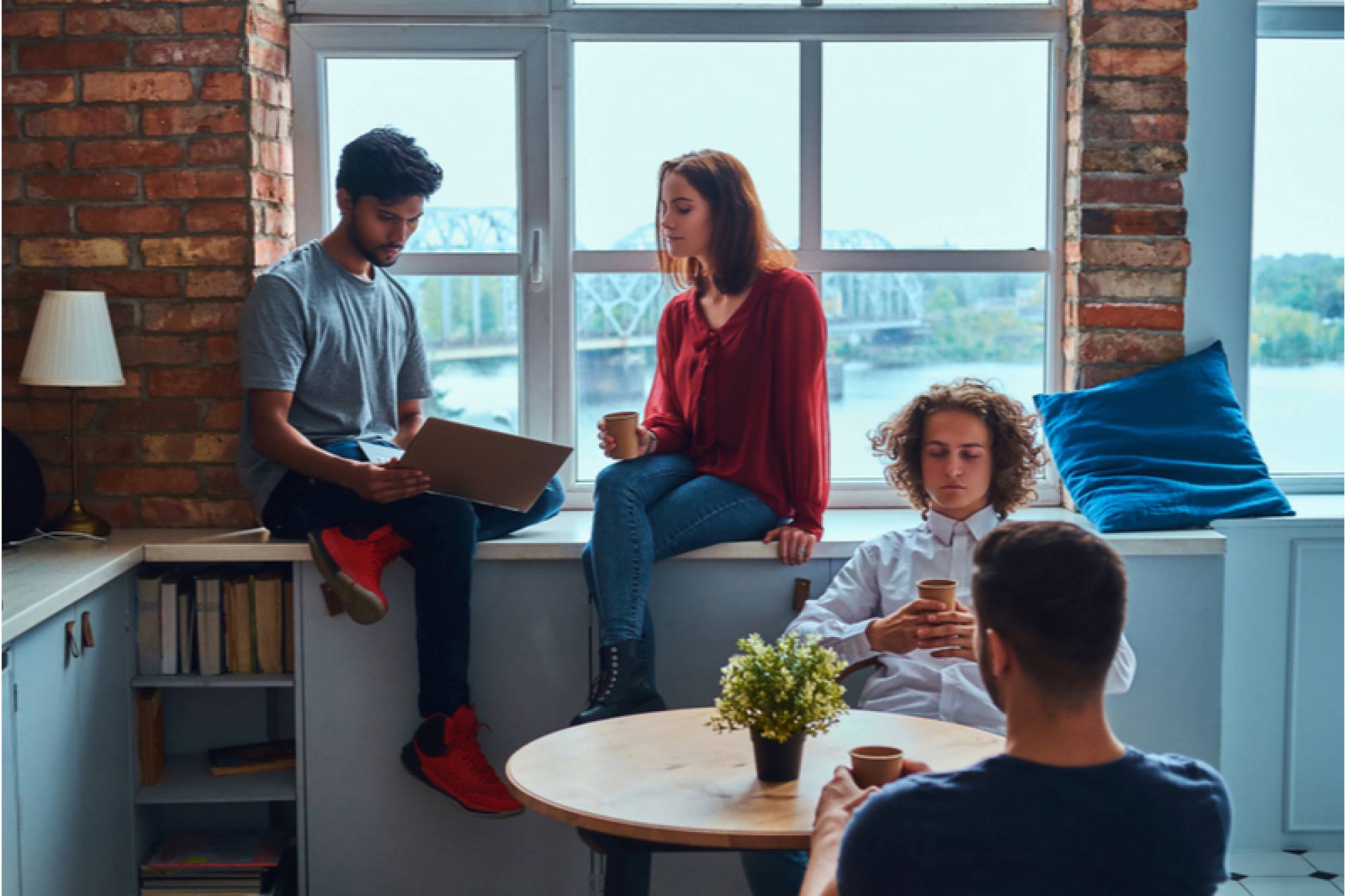 Shared apartments / houses
Most students opt for living in an apartment or house that is shared with 1 or more roommates. Since this is the cheapest option available, the competition is fierce in this department and it can be hard to find a room to your liking in such a place. Also, some houses organize "hospiteer" events to see if you match with the rest of the tenants. Offers for these rooms can be found on Facebook (groups) and on platforms such as Kamernet, Kamertje, and Huurwoningen.
The price for these rooms ranges from €250 - €800 and varies per city – Groningen is a lot cheaper than Amsterdam, for example. Furthermore, these prices are influenced by the location, condition of the house, and the size of your room. Most of these rooms come unfurnished, so don't forget to budget for the costs of furniture as well.
Generally, shared houses and apartments are a lot of fun to live in. You'll always have someone to talk to or eat with and your roommates might end up becoming some of your best friends. Often, the people in such places are from various backgrounds and nationalities, which offers plenty of opportunities to explore and learn from other cultures.
Living on Campus
Most cities also have student accommodations right on campus. These are usually not administered by the University but by private companies such as DUWO instead. The living options on campus consist of either your own room with a shared kitchen and bathroom or a private studio with a private kitchen and bathroom. The prices for these options vary from €500 - €900, depending on the city and the type of room.
Also, accommodations on campus are very competitive, but there is a limited period that students can stay in such facilities – 1 or 2 years – so they do rotate quite fast. Keep in mind that these rooms have a formal selection procedure, so if you want to make sure you that you can live on campus you have to be proactive: check your university's information e-mails or Google to see who organizes the housing at your future campus and start your application in time.
Student Houses
If you prefer to live in a student place outside the campus, you have quite a bunch to choose from. In most student cities in the Netherlands, organizations such as The Student Hotel and Holland2Stay offer fully furnished accommodations and often have various in-house studying, eating, meeting, and training facilities as well.
If you opt for such a student home, you have a variety of choices – from private rooms with a shared bathroom and kitchen to private studios and even small apartments. These accommodations are located in prime areas in the cities Amsterdam, Rotterdam, The Hague, Utrecht, Nijmegen, Groningen, Maastricht and Eindhoven. The prices range from €650 - €1100, depending on the type of room and the equipment that it comes with. The best thing is that some of these accommodations are eligible for housing allowance, which makes them a lot more affordable all of a sudden.
Private Apartment
If you prefer to live alone or with a friend/relative/partner, renting your own apartment is the best option. There are numerous one- or two-bedroom apartments available, but as a student, it can be hard to get one. However, private apartments are generally in way better conditions than student rooms, so if you've got the money and you're willing to put some effort into finding a suitable place, it'll definitely be worth your while!
This option is generally the most expensive and therefore some landlords require a financial statement that proves that you can afford the place. Keep in mind, that most private apartments come unfurnished and that the rental prices – about €800 - €1500, depending on the city and location – do not include your costs for internet, gas, water, and electricity yet (this adds another €100-€200 per month). Moreover, you might have to pay for the annual municipality taxes yourself as well, so make sure to ask for a full picture of the total expenses that you will incur before signing a contract.
Deposit
When you rent accommodation in the Netherlands, you will always be required to pay a deposit before you move in. The deposit is a guarantee fee for the landlord, and usually comprises of one month's rent. If you leave your accommodation clean and undamaged, the deposit will be paid back to you in full, but if there are cleaning or repairing costs required, the landlord has the right to use (part of) your deposit money to pay for it.