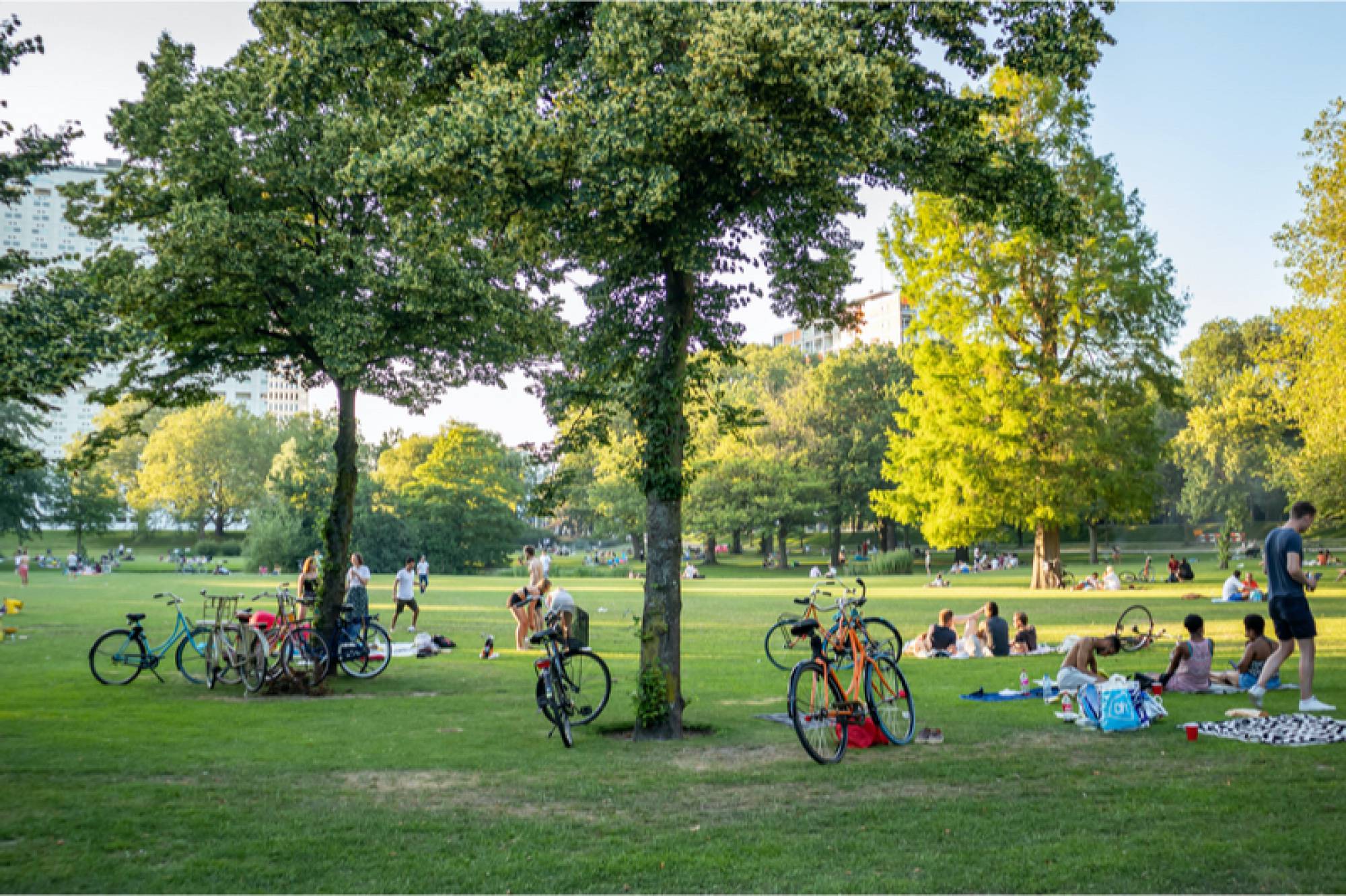 Now Corona regulations may have spoiled your (faraway) vacation plans, but that doesn't mean that you'll have to be all bored and gloomy here in the Netherlands. So, without further ado, here's a list of 10 things that the Dutch summer currently has on offer.
1. Visit the peninsulas
Texel, Vlieland, Terschelling, Ameland, Schiermonnikoog (or TV-TAS as the Dutch children's mnemonic device goes), ring any bell yet? They are beautiful peninsulas located in the north of the Netherlands. And when I say beautiful, I mean absolutely stunning! Largely made up of sand dunes, beaches, and unspoiled nature, these peninsulas are perfect for short holidays or a weekend getaway.
Although each peninsula has its own merit, Schiermonnikoog and Terschelling are widely regarded as the most picturesque ones, where the former is best if you want to ensure peace and quiet around you (tourists are not allowed to bring their car to Schiermonnikoog).
Btw, did you know that they're "peninsulas" – meaning "almost-islands" – for a reason? You can actually walk across the sandbanks and reach Terschelling, Schiermonnikoog and Ameland and by foot, "wadlopen" in Dutch, without any previous wadloop experience. So, if you like adventurous activities and don't mind getting wet, wadlopen might just be the thing for you.
2. Quatro S – not Italian food, sadly, but Swimming, Surfing, Sailing, and Sunbathing
In the Netherlands, you'll never have to go far if you want to take a dive or engage in water activities. In fact, a quarter of the country remains below sea level, much of the mainland – such as the entire province of Flevoland – is reclaimed land from the sea, and the 2 big central lakes, the IJsselmeer and Markermeer, used to be actual seawater. In addition, there are tons of small lakes and swimming ponds everywhere throughout the country and many of the cities and towns have canals that you can stand-up paddle-board (SUP) or canoe through.
So, although you never have to go far to swim or sunbathe, the beach in Scheveningen is famous for its prime surf spots and the picturesque town Giethoorn is the Dutch equivalent of Venice, but keep in mind that these places can be quite touristy for those reasons. Alternatively, although summer in the province of Friesland usually means sailing competitions and the famous "Sneekweek," you can still sail its various lakes and reach all of its towns by boat.
3. Cycle
You're in the country ruled by bicycles, and that means that virtually every place, from the largest city to the smallest village, can be safely reached via fietspaden (bike paths). So yes, as cliché as it might sound, a fietsvakantie (cycle holiday) is actually a thing here in the Netherlands. Thus, if you feel like exploring some of the less touristy areas, you can simply cycle out of your student city and visit the rural areas around it.
Alternatively, you can break the tourist-meta and cycle from one city to another, and do an inner-city tour (complete with all those renowned Dutch, Belgian, and German beers on the terraces, of course) on your very own bike.
4. Fly, stunt or skydive
Ok, so that's all chill, but do you feel like doing something crazy that doesn't involve water? Go up in the air and pilot an actual plane or helicopter (pro-tip, Groupon currently has great deals on offer). Is just flying not enough for you? Then you can even pilot stunt manoeuvres (the website is in Dutch only, but you can contact them in English) or skydive from a plane at various locations.
Yes, we know that all these things are quite pricey, but they'll give you a thrill that stays with you the rest of your life and they're still cheaper than going abroad 😊.
5. Beer gardens
Alright, let's get back to those beers one more time before we move on. With all the social distancing in place, the spacious nature of beer gardens is all the hype now – and for good reason! Less packed than inner-city terraces, at beer gardens, you can enjoy various beers with delicious finger food and good company in amazing surroundings.
You can find them in pretty much any city and town, such as Biergarten Rotterdam, De Biertuin in Amsterdam, and De Biertuin Breda, and Mystic Garden, but Biergarten Paradigm takes it to the next level by adding live festival DJs to your beers! And if you like to have wood oven pizzas, hammocks, and roaming pigs and chickens on top of that, have a lookout for the events of Paradigm's neighbour, EM2 Groningen.
6. Museums / Culture
Now I would never argue that there's no cultural element to all those garden-served beers, but why not combine the world's famous beer with a more traditional cultural activity in the Heineken Experience? Even more traditionally Dutch is The Night Watch boasting Rijksmuseum, the Van Gogh Museum, and the Anne Frank House, a museum left in honour of World War II's most famous primary source, Anne Frank's diary.
If you like to experience Dutch culture, but don't want to go to a museum, consider a trip to Nijmegen. As the oldest city in the Netherlands, Nijmegen offers a beautiful combination of history about the Romans, Charles the Great, and World War II while also having calm and picturesque vineyards in the rural areas around it.
7. Forest / Nature
Yes, museums and cities can be nice, but they usually involve spending most of your time in the concrete jungle. And that while you can also enjoy the beautiful forests and nature that the Netherlands has on offer. The largest natural reserve of the Netherlands, the Veluwe is a beautiful place to hike, cycle, picnic or spend a complete holiday, while the Nationaal Park De Biesbosch, which is primarily made up of water, offers beautiful experiences to explore the flora and fauna by canoe or boat.
Alternatively, you can combine nature and culture in the Veluwe located Kröller-Muller Museum, at the biggest castle of the Netherlands surrounded by beautiful gardens and parks, Castle de Haar in Utrecht, and at the Japanese Garden boasting estate Clingendael in The Hague.
8. Sauna / wellness
Social distancing; a limited amount of people? That sounds like paradise when it comes to saunas or wellness facilities. You can find spas all throughout the country, but the one residing in the Veluwe definitely has the best location, and Wellness & Hotel Termen Bussloo is the best one for a weekend or mid-week holiday of pure relaxation. Alternatively, if you're on a budget but really do enjoy saunas, you can get cheap deals for many spas via Dagje Wellness.
9. Theme parks & Zoos
Did you know that the number of visitors allowed at theme parks and zoos are not compromised by the Corona measures anymore? Thus, do you want to immerse yourself in fairy tales, legends, folklore, and fables? Then De Efteling is definitely worth a visit (did you know that it dates back to 1952 and provided the inspiration for Walt Disney's first Disneyland theme park in California?). If you're more of a thrill-seeker, you don't have to be disappointed either, because the many roller coasters at Walibi Holland will treat you just right.
Alternatively, if you like to see animals from around the world, pay a visit to the grand Royal Burgers' Zoo in Arnhem, the largest zoo Safaripark Beekse Bergen, or the zoo-theme park hybrid Wildlands in Emmen.
10. Special overnight stays
Most of us have been camping or stayed at a hotel to spend their nights away, but how many of you have spiced their nights up in an unusual accommodation? At Straw-Hotel Hayema Heerd you can go back in time in their straw castle, straw igloos, and covered wagons without having to compromise on your comfort. Alternatively, Het Arresthuis features an old prison transformed into a hotel, and if you can't get enough of medieval-style castles, consider Kasteel de Wittenburg, Kasteel Huis Bergh, or Kasteel TerWorm for an unusual getaway.
Do you have more ideas for fun activities that are still possible to currently do in the Netherlands? We'd love to hear them from you! For, regardless of all the social distancing in place, none of us is immune to some good old fashioned summertime inspiration.