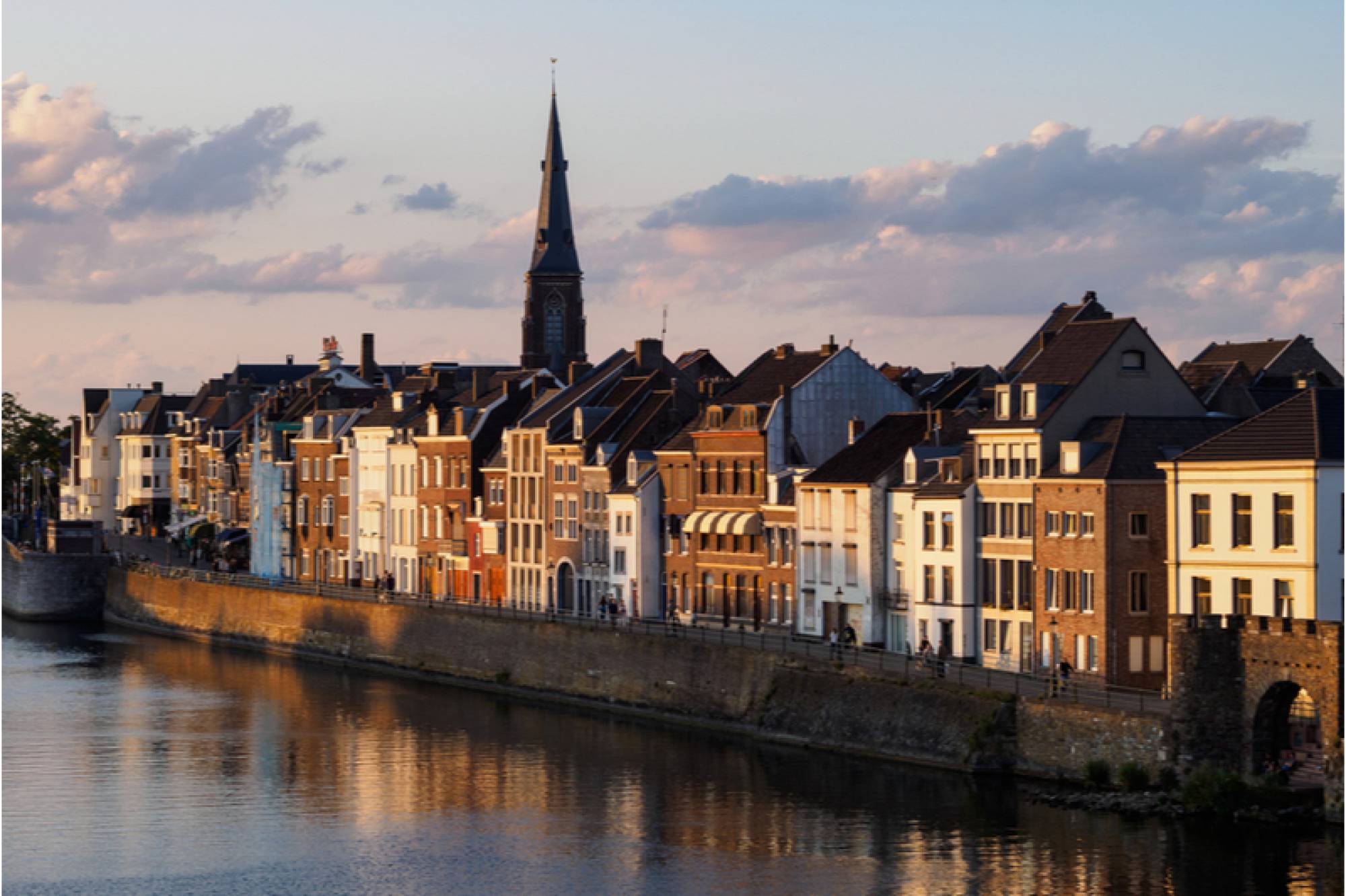 Moreover, the UM boasts over 400 international partnerships, which enables it to facilitate studies abroad for close to 40% of their students. As a result, the UM has been awarded with a Certificate for Quality in Internationalisation, which makes the UM only one of two Dutch universities to obtain this award.
With this impressive international resume, the UM is still only 1 of 3 of the internationally popular universities of Maastricht, for also the Maastricht School of Management (MSM) and the Zuyd University of Applied Sciences find their home in Maastricht. So, what makes Maastricht such a popular city among international students? It can't be just the illegal parties in the province of Limburg that attract so many expats to this student city…
Maastricht – a historical place
Indeed, there's much more to Maastricht and Limburg than illegal corona parties. Maastricht is among the oldest cities of the Netherlands (think of city walls, big squares, beautiful castles, and those characteristic merchant houses), and actually started off as a Roman settlement around 50 BC. Subsequently, it developed into a religious centre during medieval times, a garrison town in the 16th century, and one of the first industrialized cities in the 19th century.
The city's historically significant position has become further solidified by 2 treaties that were signed: the Treaty of Maastricht (1843), which settled the border between the Netherlands and Belgium, and the Maastricht Treaty (1992), which found the EU and established the Euro currency that we still use today.
International hub Maastricht
It is not surprising that Maastricht has had such prominent roles throughout history already, for it is strategically located between Germany and Belgium, and has Luxembourg and France nearby as well. As a result, the German city Cologne and the Belgian city Brussels are actually closer to Maastricht than Amsterdam and Rotterdam are.
With the historical development keeping the city compact, you can easily traverse the center on foot, and discover the almost 1700 national heritage sites easily by bike. The Limburg nature, in turn, is characterized by a picturesque rolling-hills-and-river-landscape that fosters both art and vineyards to flourish.
And if there are art and vineyards somewhere, you can be sure that there's a gastronomic culture to enjoy them both with. Hence, the many estates and characteristic lunchrooms where you can enjoy the most delightful regional products, in particular those delicious Limburgse Vlaaien (Limburg-style pies). With all these conveniences and pleasantries packed together, Maastricht also attracts (international) business and tourism to the entire province.
International education down to its very genes
Since the UM's internationalization process began 20 years ago already, it now teaches a wide variety of study programs in English (and don't be surprised to hear many of the other languages of the world spoken around you on campus).
The focus of many UM studies is directed toward Europe and the rest of the world, and teaching of international perspectives and issues is integrated into any of the curriculums, even if they're Dutch studies. In addition, there are 20 double or joint degrees that you can pursue at the UM, which means that many students from abroad come to the UM for a part of their degree while you can obtain part of your UM degree at one of the partner universities abroad. Finally, in order to support even its alumni internationally, the UM maintains various "Alumni Circles" around the world.
Studying at the UM involves spending much of your time in an "International Classroom" style, meaning that you'll be discussing topics "in small tutorial groups with people from different backgrounds" so you can get "acquainted with different ways of seeing things." In effect, the UM prepares its students for the globalizing world that we're all living and working in today. Since "international students in the International Classroom," the Nuffic has found, "perform better and have a positive effect on their fellow students," it is no surprise that the UM gets so many awards and high rankings year after year.
MSM and Zuyd
Yet, it is not just the UM that attracts international students to Maastricht. The MSM and Zuyd University are responsible for the city's cosmopolitan character as well. Both universities offer plenty of English-taught Bachelor's and Master's degrees and dedicate themselves to a welcoming international atmosphere.
The MSM business school, moreover, is among Europe's oldest universities with a focus on leadership, which makes it a serious competitor for the UM. Zuyd, on the other hand, offers study programs with a more practical approach and focuses on small-scale educational settings to facilitate personal guidance and integrated student communities.
Integrating in Maastricht
With roughly 25% of the city's 120.000 citizens being students, feeling like you're at home in Maastricht won't be a difficult process. In order to accommodate the large body of internationally oriented students, the Maastricht universities facilitate buddy programs, targeted social activities, language courses, and even visa support to make your transition as smooth as possible. The UM, moreover, is even present at many educational fairs around the world as to help you make an informed choice from the comforts of your own country.
With everything that we've described here, we would only be surprised if you're not considering paying a visit to Maastricht yourself. If not, then let us finish by mentioning that Maastricht's inland position in between the hills leads to both warmer summers and more snowy winters compared to the rest of the Netherlands – a.k.a. the best of both worlds all contained in one city.