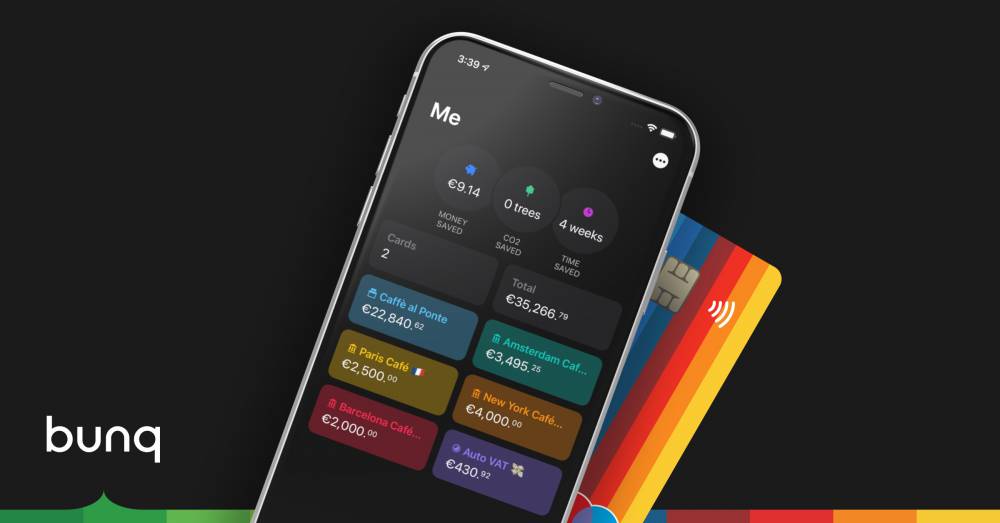 In 2012, ICT innovator Ali Niknam found bunq upon the principles of ethical banking with their user's experiences instead of profit leading the company's direction. Niknam's pursuit was spurred by the global banking crisis of 2008, and he launched his platform as the "WhatsApp of banking" by removing the need for IBANs. Then, when bunq got an official banking permit from the Dutch Central Bank in 2015, bunq has been able to supply its users with their own IBANs, making even more of their banking services available to the general public. Overtime, bunq has become available all throughout the EEA, with complete service being offered in Belgium, Austria, Germany, France, Spain, Ireland, and Italy as well.
The bank of The Free
So what does bunq being "the bank of The Free" entail, exactly? There is indeed an account option free from monthly payments, but this tagline primarily comes back to Niknam's ethical banking philosophy, which is expressed in the unique fact that bunq is completely transparent about its investments. As a bunq user, you can choose how bunq uses your money, for example for ethical or green project investments, safe and reliable government bonds, or simply stored at the central bank.
This way you can rest assured that in no way bunq will ever invest your money in any type of shady business, and thus truly remain free of corruption. With the 2008 crisis waking up everyone's awareness of the fragility of regular banking, it's no wonder that so many (international) students, expats, and young professionals choose the ethical and innovative banking services of bunq.
User above all
As we mentioned earlier, bunq's modern banking service is all about the user experience (UX). This expresses itself in the fact that you can setup your bunq account via your smartphone in just a few button tabs. All you need to do is get the app, enter a few personal details (which you can easily verify by taking photos of your official documents), and wait for the manual verification on bunq's side. Then you're all set to start banking directly on your phone, so no need to ever go to a bunq facility or even talk to an employee.
In this, you don't even need a BSN (burgerservicenummer) to set up your account, which is perfect if you aren't in the Netherlands yet or just moved here. Consequently, with bunq, you don't have to worry about being able to pay your rent, shop for groceries and clothes, or get that much-needed furniture to make your accommodation more comfortable. Although it usually just takes a few days before you can get your BSN, bunq gives you 90 days to complete your account, which is also convenient if you're only here for a short time and weren't planning on getting your BSN in the first place.
So, the app basically has everything you need; you can scan QR codes with it to make payments on other devices (similar to the scanners that other banks supply you with), and you can generate your own QR codes for anyone who has bunq to pay you directly by scanning it, which is most convenient if you don't have (or want) each other's contact details.
However, if your phone is empty, lost or destroyed, or if you find yourself in front of a computer, you can still do your banking on other devices via the bunq web app or via the third-party desktop app (scroll down a little to find the download link).
bunq Together
Of course, you can communicate with bunq employees if you wish to do so; the employee chat is available every day from 08:00 – 23:00, and usually for 24 hours a day when they're rolling out a new update. In addition, bunq engages with its community via its bunq Together forum and listens carefully to what users want from their banking experience (don't be surprised if Niknam replies to your posts or comments himself). Moreover, bunq organizes real-life events in Amsterdam to demonstrate new updates and layout their most recent ideas, which have gained waiting-list-level popularity and even attract users from countries such as France, Austria, and Germany.
bunq benefits
So, what benefits specifically set bunq apart? How does bunq save you time and help you manage your finances? The complete list is endless, but here we'll focus on why bunq is ideal for students and expats.
Bunq is unique in giving you monthly interest on both payment and savings account(s).
Slice Group(s) for expenses that you make with a group: for example, the groceries, rent or utilities for your student house, or the holiday expenses of you and your family or friends.
Even without having a Slice Group you can instantly split any bill that you paid.
3 debit cards, a Maestro, a MasterCard, and even a sustainable metal card: The cool thing is that the MasterCard works like a regular debit card that you can make credit card payments with as well. This completely new feature in the Netherlands ensures that you can only spend the money that you actually have.
Thievery-proof MasterCard: there is no CVC code written on your MasterCard; your CVC is safely tucked in your app, and you can even have it be automatically changed every 5 minutes.
Up to 25 sub-accounts: segment your savings and spending finances effectively. -** Have 2 pin codes connected to 1 card:** for example, on 1 bank card you can link one code to your checking account and one to your savings, or one to a groceries sub-account and one to your general account.
Change your pin code(s) and deactivate bank cards whenever you like.
Control security settings: limit (sub-)account spending, give permission per country, change login code and authentication methods, and much more.
Instant payment push notifications: this way you're always on top of your expenses, which gives you more insight and the option to immediately interfere if payment isn't according to plan. Of course, you can turn the type of push-messages that you receive on and off at will.
Direct debit approval: get notifications so you can approve or reject direct debits.
Automatic saving: round off payments and have the rounded up amount sent to a savings account. For example, if you pay €2,40 for a beer, then you can have it rounded up to €3,00 and automatically put the €0,60 in a savings (sub-)account.
Public API: constant customizations and new integrations developed by tech-savvy people
bunq subscriptions
bunq offers 5 types of accounts for its users, each specified for a different type of user, but there are 3 particularly convenient for students and expats.
Easy Travel: The most convenient and secure card to travel the world with.
All the benefits of a credit card, without the burden of debt or any monthly fees.
Only real exchange rates, which makes you save up to 3% for each payment that you make abroad.
Slice Groups: automatically track who paid what.
Travel assistant: exchange rates, safety tips, travel tricks, etc.
Integrated with Google and Apple Pay.
Easy Money: Make life easy with a bank account that makes your finances insightful and fun, so you can just enjoy life and not worry about money.
All Travel Card benefits +
30 Days Free Trial
3 cards of your choosing with 10 monthly free cash withdrawals
Up to 25 sub-accounts, including Dual PIN technology
Automatic saving, and direct bill splitting and payment requests
TransferWise integration: send foreign currencies only at the real exchange rates
Complete Siri voice control
Easy Green: A greener world because of you; zero CO2, zero effort.
All Easy Money features +
For every €100 you spend, bunq plants a tree for you: become CO2 neutral in only 2 years' time without any extra effort needed from your side.
Sustainable Metal card: lasts 50% longer and made of 50% less plastic.
In addition, bunq offers you to get a bunq +1 for anyone that you want to share a (sub)-account with, and Business Easy Travel, Easy Money, and Business Easy Green accounts that are specifically designed to save entrepreneurs time.
If you want to be one of the thousands of students that became part of the bank of The Free follow this link and find out more about bunq.