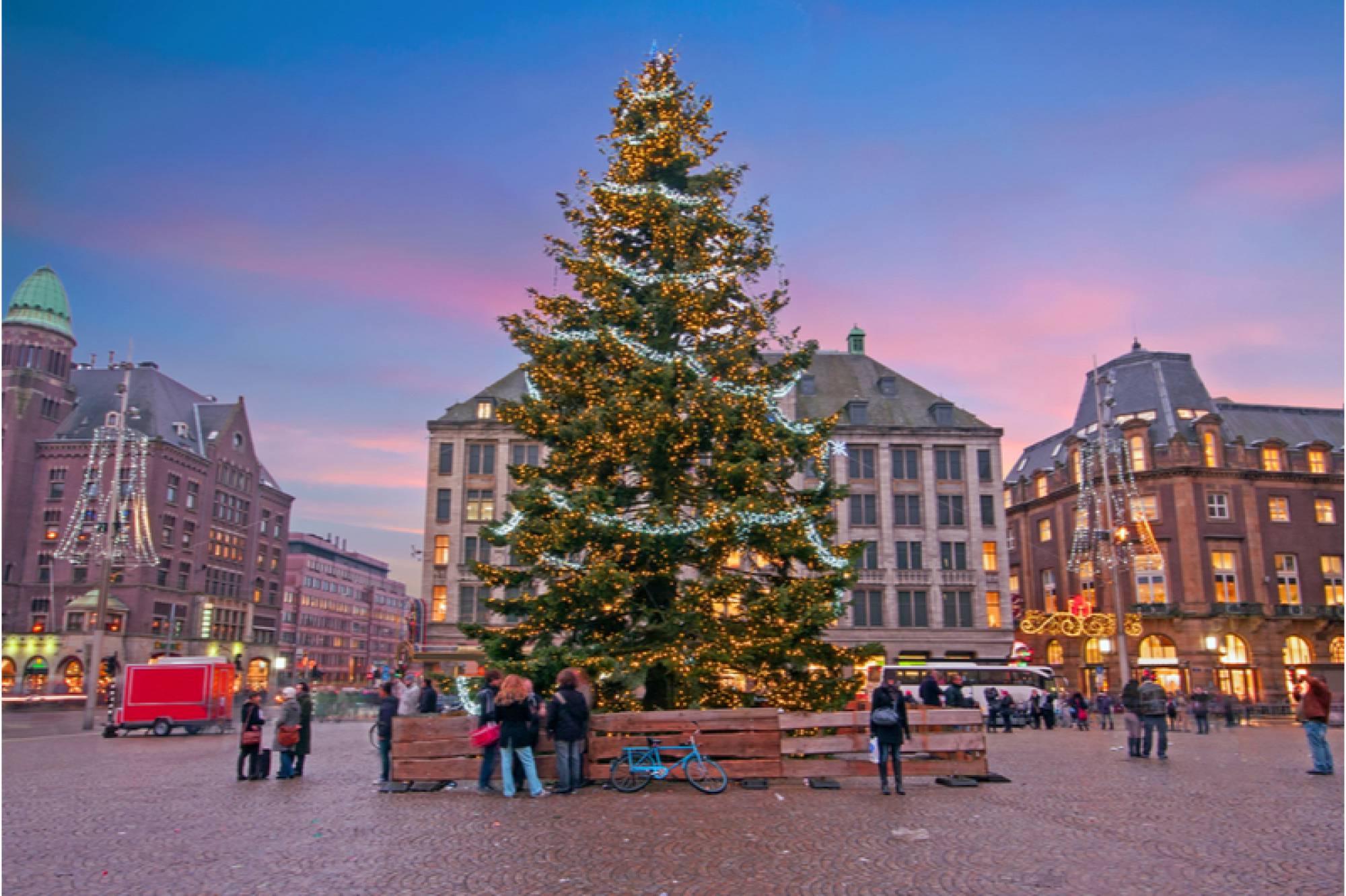 What does the Dutch Christmas tradition look like?
First of all, in the Netherlands, we have 2,25 Christmas days. There's Kerstavond (Christmas Eve) followed by Eerste Kerstdag (First Christmas Day), which is followed by Tweede Kerstdag (Second Christmas Day). Usually, Christmas Eve is celebrated with the direct family (parents, brothers and sisters), and before Corona, this was also the most popular night to go out and party.
Then, First Christmas Day is traditionally celebrated with one side of the extended family, and Second Christmas Day with the other side. However, since many families aren't that tight-knit, many Dutchies also celebrate one, two, or 2,25 Christmas Days with their friends or with their partner.
What is typical Dutch Christmas food ?
As you might guess, having amazing food during Christmas is also custom in the Netherlands. And not just amazing food, a lot of it as well! It's perfectly okay to have kerststol – a sweet raisin bread filled with almond paste – for breakfast and for lunch, and to eat kerstkransjes – cookies, chocolates or other types of candy in the form of wreaths – throughout the days.
Then, while Dutch dinners are traditionally very pragmatically oriented, Christmas is a tradition where we will take elaborate time to wine & dine. Popular dishes include any type of wild game, beef or pig roulade, potato gratin on the side, and pudding, any type of crumble or apfelstrudel with vanilla sauce for dessert.
However, the most popular way to eat during Christmas in the Netherlands is by far gourmetten. This is a kind of indoor barbecue style of eating with a gourmetstel in the middle of the table, which contains a grill plate on top and many small pans underneath that.
During gourmetten, everyone constantly puts small amounts of food such as meat, fish, vegetables or mushrooms on the grill plate. The small pans, in turn, are used to fry an egg or a few potato slices at a time or to make little pancakes. Since you're constantly making small batches of food at a time, gourmetten easily goes on for hours on end, which of course makes it a very gezellige way of eating.
Are Christmas presents custom in the Netherlands?
Whether Christmas presents are custom really differs from family to family in the Netherlands. Some households put tons of presents underneath the Christmas tree, and in others there are none. In my household, presents weren't common – Sinterklaas was the celebration with presents – but small items like a book or a warm shawl or hat could still come as a surprise gift. Small presents like that are also common within couples or as a romantic gesture if you like someone.
It is common practice, on the other hand, for companies to give their employees a kerstpakket (literally "Christmas package"), which resembles the English tradition of Boxing Day. Usually, this contains a random selection of foods and drinks – with their luxury depending on the company type – but it can also be a gift card for Bol, for example.
Finally, if you're invited somewhere for Christmas, bringing a good bottle of wine or some luxury snacks is of course always a good move.
What is a kerstborrel?
Kerstborrels are celebrations with an ample supply of drinks and snacks. It is common for workplaces to organize these somewhere in the weeks before Christmas, and they usually start somewhere in the afternoon of a regular workday.
Also, many (sports)clubs host their own kerstborrel for their members, but the timing of these varies widely from club to club. However, most kerstborrels this year will, of course, be celebrated online or in small groups only.
So, how do I prepare for Christmas in the Netherlands?
Do your shopping in time or make your orders beforehand so you can pick up your stuff fresh. Want to go all out? Swing by your local bakery for their luxury kerststol and kerstkransjes (you'll thank me later), and swing by your local butcher or fishmonger to see what you can serve for dinner.
Don't feel like doing anything at all? Then there are plenty of restaurants that you would help survive by having them serve your Christmas dinners – a Christmas spirited win-win!